OMG!!! I did it. Thank you to all the lovely ladies over at SUO Challenges for my first place win. It means more than you know, that now not only am I giving my mum my hand made card, I am giving her a card that others loved and awarded. Thanks heaps!!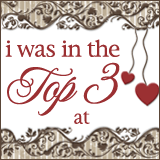 I have finally decided to enter a challenge at SUO Challenges, something I havent done in a long time. This challenge was a special one to me because alot of you know that my best friend in the whole world...my mum is terminally ill and I know I won't have her for much longer so I thought it be fitting that the first challenge back be for my best friend/mum....I Love you Mum...xx
I loved making this card and it was the first time I had used my circle scissors...LOL, well after a few practice shots.
 After few comments from some lovely ladies out there I have also entered this in a challenge at Hand Stamped Sentiments. I also think this card is very fitting for the challenge over at The Paper Players, as it reminds me all about spring!! As said before I haven't entered many of these challenges so I don't know many of them. I thank all the ladies that have helped build my confidence in my cards to be able to enter such challenges.